In my income report for this month, I mentioned that I've taken a new approach to email marketing…
I have some new philosophies and new strategies that I'd like to test out and I thought some of the things that I'd be doing with email marketing disserved their own blog post…
It's interesting because, since I've started this new approach, I actually have received several comments from people telling me that they loved my email. One comment, from a well-respected marketer, was "Damn Matt! You're getting good at these emails…".
What Gets Emails Opened?
To understand what I'm trying to accomplish with email, I'd like to point out an important element…
Below is a screenshot from my actual inbox (I have a 'subscriptions' tag to help me separate mailing lists from personal emails).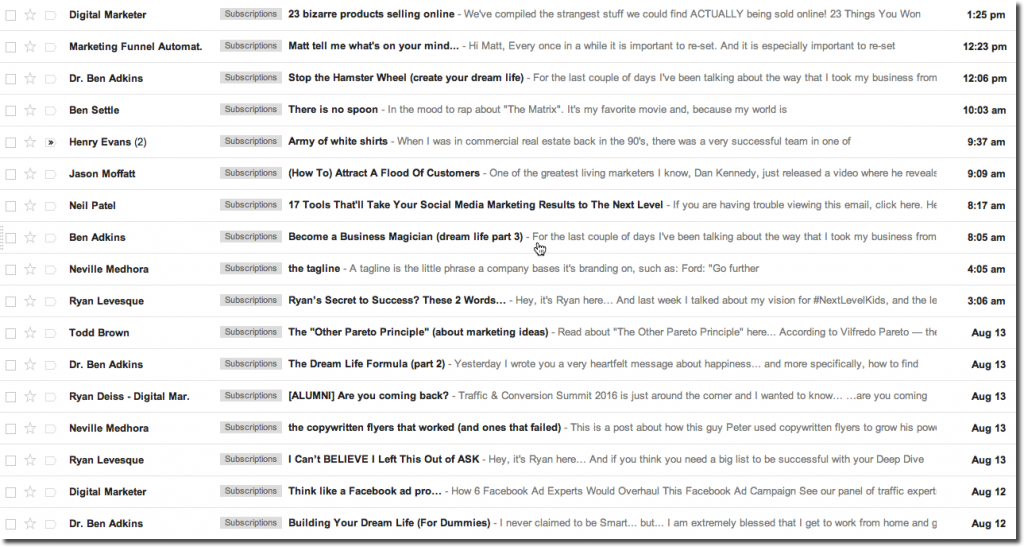 From the screenshot, think about this question…
What gets people to open your emails? What's the one thing that has the biggest impact over whether or not someone clicks or not?
Most people would say "The subject line", right?
That's what we're taught… If the subject line isn't right people won't open the email…
It's actually not the most important thing.
The most important thing is…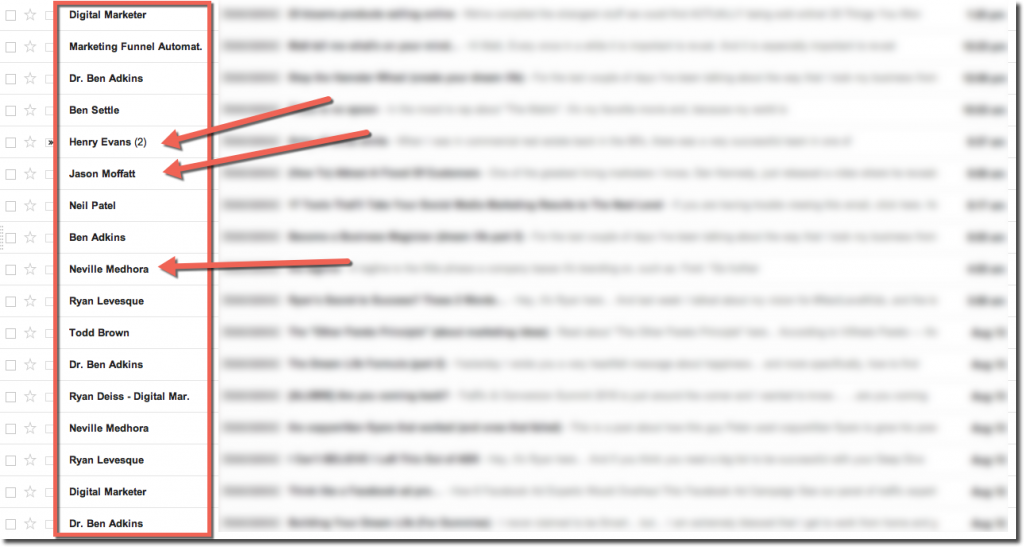 The from line…
I mentioned in my income report the marketers that I will stay subscribed to because I look forward to their emails…
I didn't say Neville Medhora writes amazing subject lines and that's why I always open his emails…
The biggest impact on getting people to open up an email is who it is from.
When your mom or your best friend writes an email, do you even pay attention to the subject line? Maybe a little.
I know that if a high school buddy of mine was to email me and the subject line said "What's up?", I'd still open the email… Because it's my buddy and I want to know what's up with him.
Ben Adkins, Neville Medhora, Todd Brown, Neil Patel, Jason Moffatt, etc… When those guys mail, I usually open. Sometimes I don't even look at the subject line. I get excited to see an email from them and I just open.
So that concept forms the basis for my new approach to email marketing.
Building The Relationship
Knowing that the from line is going to have the biggest impact on email opens, I need to make sure that people are excited as hell to hear from me.
This is where my new email strategy comes into play…
I talked about this briefly in my income report, but I'll talk about it again for those of you who didn't read the income report…
My old strategy was to create quick, short, and to-the-point emails. The idea was that people would open the email, read the quick call-to-action that I posted in it and then click over to wherever I was sending them.
If I was trying to promote a product, I'd let the page do the selling, instead of my email. If I wrote a new blog post, I didn't want to waste time writing about what I just wrote… I'd let people click to go learn. That was the general idea.
Over time, I've seen me email click rates drop. Right now, they're the worst I've ever gotten…
The strange thing is that my open rates on my emails are some of the highest I've ever seen. People are clicking to open my email, but they aren't clicking over to see what I'm linking them to.
It was time for a new approach.
The new approach is to educate, inspire, and pique interest in the readers right inside the email.
Instead of writing short and to the point emails, I'm writing emails that really educate. I'm writing emails that tell a story.
I want people to be excited about just reading what's in the email, whether they click or not. If I can educate, entertain, and inspire right inside an email that's being sent to 50,000+ people, I'm doing much of the same job that a blog post would do, right?
My blog might get 7,000 visitors in an entire month, across all my posts… When I send an email, I typically see 4,000 people or so open the email… And that's just one email…
Multiply that visibility by a few emails per week… The content that I'm putting out and the concepts that I'm trying to teach are going to be seen by a hell of a lot more people…
Here's a screenshot from a recent email where the goal was to educate: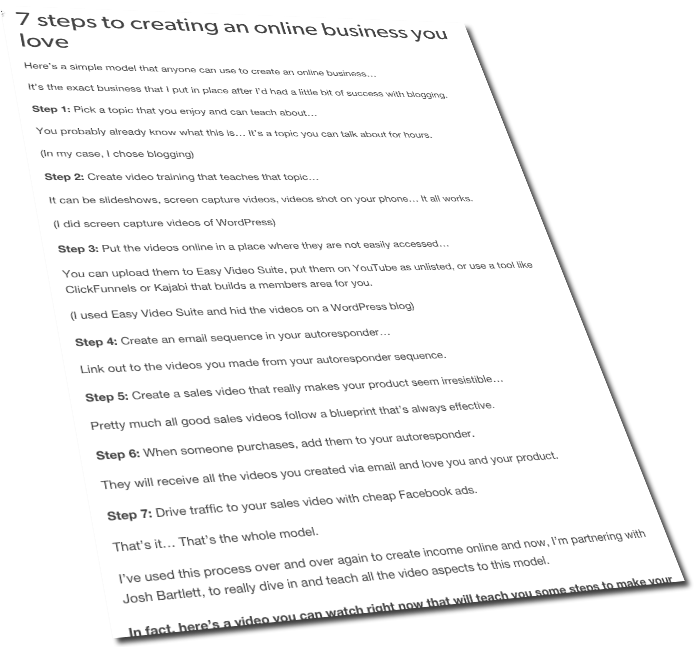 So that's big change #1…
I'm no longer sending quick short, "markety" emails. I want to tell stories, to inspire, and to educate… Hopefully enough that people can't wait to open the next email from me (regardless of the subject line), and ideally click whatever link is in my email to get even more…
As a side note, when I write emails that I'm personally proud of and that I think really hold their own as a good content piece, I'm putting them over on my Tumblr blog here. I'd love it if you would subscribe to that. I share my best performing emails as well as what subject lines had the best open rates for me… (I said the from line was the most important. I didn't say subject lines were not important.)
How Often Should I Mail?
My old approach to mailing frequency was that I'd go weeks at a time without ever mailing my list…
Then, when I was about to release a product or wanted to promote an affiliate offer, I'd mercilessly mail my list multiple times per day.
People weren't used to hearing from me and then, all of the sudden, I'm overwhelming them and asking them to go buy something.
It doesn't take a marketing genius to realize that this is a pretty poor approach.
Now, I'm changing things up… Instead of mailing inconsistently, I'm focused on making sure I mail multiple times per week. Some weeks it may be every single day.
I know this strategy isn't for everybody and I may have some people unsubscribe from my list as a result of this blog post, but it is what I'm going to do.
My thoughts on this are:
A) If I'm mailing great content that educates, inspires, and tells stories, I will be a welcomed email. Even if it's daily.
B) I pay a lot of money every month to have subscribers on my list and to have the ability to mail them. People unsubscribing actually helps me cut the costs of my mailing servers. If emailing daily causes the people who don't get excited to see my name to unsubscribe, I'm ok with that. It's a good filter.
C) I've got a lot to teach and a lot to offer. If I hold back on teaching this stuff and presenting it through email, I'm doing people a disservice by keeping it to myself and not emailing about it.
It's interesting because, as an email marketer, I constantly concern myself with how often I mail. I worry that I'm going to piss off people on my list or that people will get overwhelmed.
However, when I really sit back and think about it… And when I analyze the lists that I'm on, I'm never frustrated to see an email… In fact, most of the marketers that I pay attention to and recommend others follow usually mail at least once a day… Sometimes more.
Plus, I know that if emails from a particular person just aren't resonating with me, I can click a single button at the bottom of the email and stop receiving them. I'm off their list so they don't have a "dud" that's not paying attention and I can manage my inbox clutter.
So… Fair warning. I'm going to be emailing more often. If you want less from me, there's an unsubscribe button at the bottom of every email. However, I can promise that the emails from me, from here on out, will be different… So at least stick around for a little bit longer before cutting ties completely. 🙂
That's big change #2
Email Sending Service
I recently made another massive change…
For the longest time, I was with GetResponse… To this day, I still like GetResponse and I still have a list with them and I still set clients up with them.
About 8 months ago, I moved my entire list over to Infusionsoft. I loved that I could add tagging and create dynamic follow-up sequences that send different emails based on actions the readers took.
However, over time, the costs really added up and deliverability kept dropping and dropping.
I don't have a tiny list… There're about 55,000 people on my list. With Infusionsoft, I was allowed to 625,000 emails per month. 625,000 emails divided by 55,000 is only 11 emails per month total… Any sent email beyond that costs me $0.002 per email. So if I wanted to mail 15 times in a single month, it would cost me an additional $400 on top of the monthly fee that I was paying. If I wanted to send 20 emails in a month, it would cost me $950 additional per month…
The costs added up quick and another change had to be made.
So this week, I've spent a lot of time moving my entire list over to a new service called Active Campaign…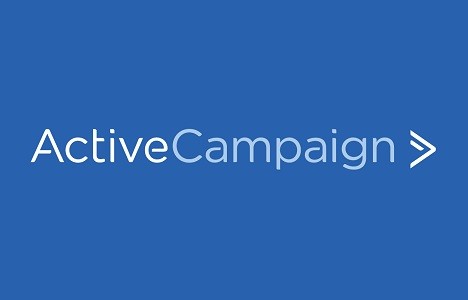 It's got all of the tagging and dynamic follow-up capabilities of Infusionsoft without the cost per email…
Now, this system is very new to me. As of writing this post, I haven't even sent my first email from the new system yet. I'll be mailing to this blog post as a test.
So, I may find myself going back to Infusionsoft or testing something else… But for now, I'm excited to see how things go with a new system.
Final Thoughts
So there you have it, the new approach to email marketing from Matt Wolfe. 🙂
Here's a super quick recap:
I want you to look forward to emails from me. In order to do this, my email style needs to change. Get ready to be educated, inspired, and entertained. (Neville Medhora is a big inspiration for me emailing in this way) – Get on his list.
I will be emailing more often. I'd say minimum 4 times per week. It will be good content and I'm not scared of unsubscribes. (Ben Settle influenced this) – Look him up too!
I've moved over to Active Campaign for emailing. We'll see how it goes. (I've got Andre Chaperon to thank for recommending this)
Another thing that I'd like to share is that I'm on a "Copywriting Kick" right now. I'm consuming everything I can get my hands on about how to be a better writer, a better storyteller, and a better influencer / sales person…
…But that's a whole blog post on its own. Keep an eye out for it. I'll share some great resources!
In the meantime, share your thoughts in the comments! What do you think about email marketing? Good, bad, and ugly, I want to hear your thoughts. I also want to hear what names you actually look forward to seeing in your inbox.
Comment below and I'll jump in and discuss with you!