Life is about growth. If you're not growing, you're dying.
2015 is an exciting year for me. There will be a lot of new challenges and new things ahead but I have reached a growth point.
My wife and I recently had a new baby and it has really made me think about my life and really assess the path that I have been on.
One conclusion that I have come to is that I have outgrown Learn To Blog.
It was a passion project. It was something that I loved every moment of creating.
I love every subscriber and every customer who I had the opportunity to help and I will always love the project and everyone involved.
This project has been almost the last 6 years of my life.
The WordPress Classroom was formed in mid-2009 and merged with Bradley Will and Free Blog Factory in mid-2013.
From 2013 to today, Bradley, Jeff, Clarke, and I grew it in to the powerhouse brand that it is today, with over 5,000 customers, well over 250 training videos, a massive Facebook following, and revenue numbers that most marketers dream about.
As a result of this business, my wife was able to quit her job, we had the opportunity to do some world traveling, we bought a brand new home, and I built a personal reputation online as a successful entrepreneur.
Although I still have a strong passion for creating blogs, my real passion and my true calling is for creating successful entrepreneurs.
I feel like I have done what I could do with Learn To Blog and so, with a huge amount of excitement and a little bit of sadness, I have decided to step away from Learn To Blog to really focus on that passion.
Saying that, you will still hear from me. I will continue to be active in the Learn To Blog community, I will continue to share my journey and you will continue to receive emails from me.
I'm not going anywhere. I will just no longer be running Learn To Blog.
I want you to come along with me on this next phase of my journey.
I may still talk about blogging and WordPress from time to time but, more importantly, I'll be talking about how to get the most out of a business.
A blog is a powerful tool for any business but I'm excited to take you beyond the blog and dive deeper in to the elements that solidify a brand and take good businesses to phenomenal businesses.
What's happening with Learn To Blog?
To fully pursue my my new mission, I have decided to sell my stake in Learn To Blog.
Bradley, my partner, has agreed to purchase my percentage of the company and take full control.
This doesn't mean that I'm disappearing from the business completely.
Members of Learn To Blog will still see me in the Facebook community, helping out and answering questions.
The training that I have created will remain available to the members and you will still hear from me through email and social media.
Learn To Blog is in great hands.
Bradley and I remain good friends and he's shown me the direction that he's taking the program in to.
There are amazing things in store for Learn To Blog members with new courses, new trainers, and new ways of consuming this training.
I could not be more excited for the future of Learn To Blog, the entire team there, and all of the members.
So what's next for me?
My path for 2015 revolves around the brand that I've begun building with Josh Bartlett.
Josh and I have created a mission… We have a grand vision of creating 1,000 financially successful entrepreneurs in 2015.
In the past, I have focused on tactics… I set goals to help people learn things like blogging, Facebook, traffic strategies, and even selling on Fiverr…
All of those are great tactics but none of them, in isolation, create a successful business.
They are pieces of the bigger picture, cogs in a bigger machine, and things that will improve an existing business.
Our mission is to help entrepreneurs with that bigger machine.
Enter Beyond The Hype…
Beyond The Hype is a publicly available podcast hosted by Josh and myself.
Multiple times per month we bring in successful entrepreneur guests and have real, raw, uncensored chats with them to find out, not only what makes their business tick, but what makes them tick as people capable of creating successful businesses.
Beyond The Hype will also consist of a group coaching where myself and Josh Bartlett will teach the strategies that we've used to launch, grow, and sustain successful online businesses.
Everything I do online in 2015 will be in pursuit of this bigger mission.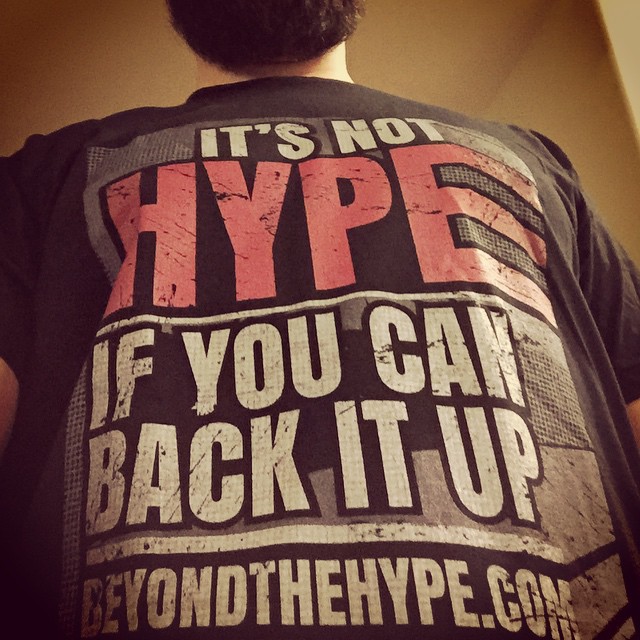 Stay Tuned
In the coming weeks, you will be hearing a lot from me. I plan to get you caught up with the income reports for the past couple months as well as share insights about the tools that I use to build and grow my business.
Like I mentioned before, blogging is just one piece to the online business puzzle. I'm going to be sharing the other pieces with you through emails, blog posts, and videos as well as give sneak peeks into what I'm working on next.
It's an exciting time!