Well, I'm actually a bit bummed about my July goals. I didn't actually hit most of them…
The plan was to launch VidForce towards the end of July and that was going to provide a big spike in income for the month of July.
However, when Josh and I make products, we don't rush them… We carefully take our time, cover all our bases and make sure that we're putting out the best thing we possibly can. We carefully crafted the launch process for this and spent extra time getting the pre-launch (teaser) videos and the launch video just right.
We also had additional training that we wanted to get into the course before we opened the doors so that customers would be blown away with everything they got once they were inside…
All of this led to VidForce launching in August…

In fact, as I type this, we're in the middle of the launch week. I found a little bit of free time in the evening to get this updated for you, but I've been buried in launch mode…
What is launch mode?
Well… The night before we opened the doors to VidForce, I was at my office until 2am, making sure the sales page was just right and that the emails to our mailing lists were scheduled to go out to notify everyone. I was testing the process to make sure that people who purchased were sent to the proper place, added to a "buyers" mailing list, and then given proper access to their course…
I was on and off phone calls with Josh Bartlett, my partner on this project, game-planning each step of the process and what was going to happen each day of the launch…
We were reviewing and analyzing the sales copy and the images on the sales page and making minor tweaks that we thought would help the product sell more..
I was making sure all the tracking software was set up properly. We use a tool called Visual Website Optimizer to track sales conversions and split-test variations. We use Google Analytics to track the traffic, where it's coming from, how long people are staying on the page, etc. And we use Facebook pixels to make sure people who haven't bought yet see our ads on Facebook and people who have bought stop seeing our ads…
Then I created a few Facebook ads so that when we opened the doors, people would start hearing about it on Facebook…
And this was just the night before we opened the doors…
The next morning I woke up after about 4 hours of sleep or so to make sure the page was working, sales were coming in, tweak more elements on the sales page for testing, optimize the Facebook ads, queue up more emails to go to the leads who were interested, reply to any emails that came across from customers or potential customers, jump on more calls with Josh to further game-plan, etc…
That was the first 24 hours…
Anyway… That's been August so far (and this is supposed to be July's report).
So, because we didn't launch VidForce until this month, my numbers were not what I had hoped last month.
To top all of that off, I was going to create a new funnel into FB Uncovered. I carefully wrote a new ebook in July, about 50 pages long with over-my-shoulder screenshots of the process and I converted it into a PDF to sell as a low-ticket entry into learning Facebook advertising from me.
I was all set and ready to start selling this dang thing and then Facebook goes and changes the way their ad interface looks! So all of the screenshots in my ebook don't look like the actual dashboard and my step-by-step "click here / drag there" kind of instructions don't accurately reflect Facebook's new look. Doh!
So that needs to be reworked before it's ready to go.
It's been one of those month's. I'm sure all entrepreneurs have them. Things just didn't fall into place the way I had hoped and my month fell a bit flatter than I had liked.
Let's look how it actually went:
A Quick Note And Disclaimer
Like always, I'll start with a few disclaimers… These numbers are net after refunds for the month. This is the amount that I actually received in that month, all refunds considered.
Many of these projects, I'm partnered with Josh Bartlett on. What you're seeing is what I made. This isn't the total made before Josh takes his cut. This is the totals that I made off the various promotions. Josh and I are not necessarily 50/50 partners on every promotion we do so it should not be assumed that what I made is also what Josh made. I respect Josh's privacy and will not share information that indicates how much Josh may have made off of a project.
Finally, some of the links in the income report will be affiliate links. If I mention a product that's not one of my products, it's safe to assume that it is an affiliate link and that I will receive a commission if you decide to purchase. This does not affect the price of the product and I only ever recommend products that I use and can stand behind 100%.
So here is the income breakdown for July 2015…
---
Income Breakdown July 2015
Info-Product Businesses:
Affiliate Promotions:
Book Publishing:
iBooks: $249.31
Kindle Sales: $127.50
CreateSpace: $36.61
Audible: $13.96

Total Publishing: $427.38
Miscellaneous Earnings:
Client Work / Private Deals: $5,254.73
Fiverr Gig Sales: $31.36
Amazon Seller: $3.48
AdSense: $6.74

Total Miscellaneous: $5,296.31
Total Income – July 2015: $8,116.72
---
Some additional things to note for June…
My Email Marketing Strategy
I've taken a bit of a different approach in July to my email marketing strategy… I'm beginning to put a lot more focus in making sure that my list loves me and loves hearing from me. In order to do this, I'm doing a couple of things differently…
First, I'm emailing more often… Often 3 or 4 times a week. I'm doing this because I've found that if I go a long time between emails, people don't remember who I am or why they signed up to be on my list. If I mail more often, I stay top of mind and people tend to pay more attention.
Second, I'm getting much more educational and story based in the actual emails.
Before, I'd send emails that were very promotional or very quick with a link off to somewhere else… The logic behind this was that I wanted people to not spend time reading my email and, instead, click the link and spend the time wherever I was sending them. I figured that if my emails were super short with a link, people would be more likely to click. I've actually found that this hasn't been the case… My click rate seems to stay pretty constant no matter how long or short my emails are…
My new logic is that I actually get pretty amazing open rates on my emails but somewhat poor click-through rates… With this in mind, I'm starting to put much more information in to the actual email itself. This way, even if people don't click, they are still getting the educational value from the email, gaining more trust in me, and getting to know what I'm about. I build much more rapport with people by sending these stories and tutorials right in the emails… (And it's leading to better clicks to wherever I'm sending them)
I will write a whole blog post tutorial at some point about my email marketing strategy in another blog post. I'm sure it's contrary to what a lot of people teach of believe.
Essentially, I try to write emails these days that are so good, that they could actually be blog posts by themselves… In fact, I've even created a separate blog just where I post my best emails… Because they are educational, they do teach, they do tell stories, and most of them could stand alone as blog posts. Check out my blog of my favorite emails here.
Here's an email I sent last week about VidForce that kind of shows more of what I'm talking about with the new style…
Also, if you're not on my list yet and you want to follow along and see my new email style, make sure you click here to opt-in.
Easy Webinar
When I was running Learn To Blog, we did a ton of webinars. It was the single largest income generator for that business. With Beyond The Hype's library of products, we're going to start shifting into doing more live training and webinars. We love the interactivity of live sessions… In fact, Marketing Insiders this month is all about live streaming and webinars…
In July, Josh and I did a promo for Easy Webinar from Casey Zeman and did decently well with the promo. It's a great product and, if you do the math on it, less expensive than pretty much all of the alternatives.
Here's the email that I sent out to my list to promote Easy Webinar… (I really liked this email)
Amazon Affiliate Commissions
In the month of July, I was on a Periscope (more on that in a moment) and Pat Flynn was presenting his top 3 tools that people should be using but aren't… One of the tools he mentioned was called GeoRiot… It's a tool that allows you to place Amazon affiliate links inside posts and, if depending on which country a user is on your page from, the link will actually change to their local Amazon link. So I can earn commissions from more than just the US Amazon. This tool allows people to earn commissions from the UK, Canada, etc. It's a pretty cool tool so I signed up to check it out…
Within a couple hours of signing up, the owner / creator of GeoRiot reached out to me via email. He told me that he had read my income reports and wanted to know if there was anything he could do to help get my Amazon stuff off the ground… We went back and forth and I'm going to line up an interview with him…
Anyway, GeoRiot is an awesome tool so I went through all of the Amazon links throughout my website and switched them out with GeoRiot links… And, in the month of July, I actually saw a little bit of Amazon commissions trickle in. Pretty awesome! I highly recommend checking it out. Here's a screenshot: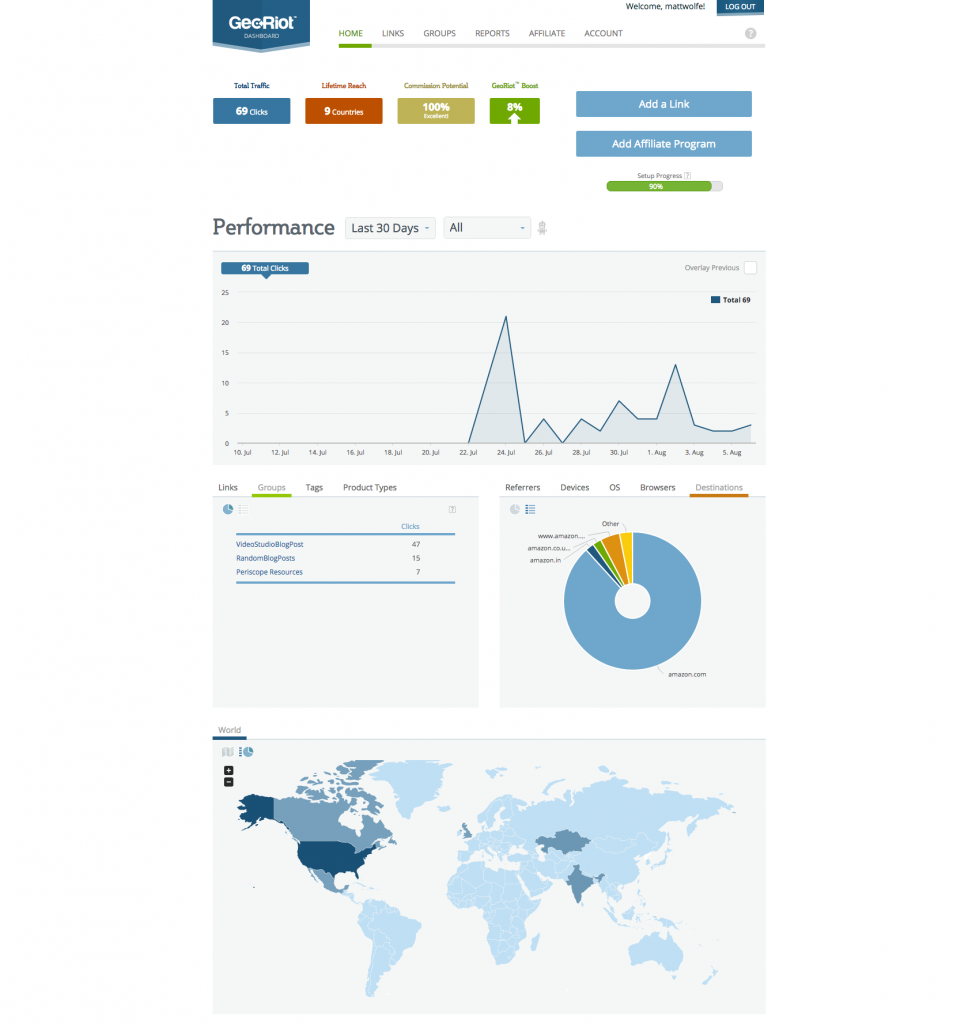 Periscope
I am absolutely in love with doing live broadcasts on Periscope. I did my first several in the month of July and have really enjoyed it. If you're not on Periscope yet, download the app to your smartphone and follow me…
Here's what I love about it… If I want to share something with you, in real time, I can hit broadcast and you will get a notification that instant that I'm jumping on live… I can now share with you some cool tools, a thought I was just having, behind the scenes of my business or just a peek into my daily life. It's one more way that people can connect with people in real time and I absolutely love it.
It's one way to build the "know, like & trust factor" with your audience.
Here's a quick video I made:
The Contest
One last thing that I want to note about the month of July is that, between July and August, we ran a contest for VidForce… We gave away a $1,000 portable video studio. To gain entry, people had to join the mailing list. They could earn extra entries into the contest by following us on Twitter, tweeting about the contest, and referring friends to the contest. It was a massive success. This contest added about 1,300 new opt-ins to our Beyond The Hype mailing list in about 1 week… It also added around 300 new Twitter followers to each of our accounts and grew our Facebook Fan Page by another 300 or so…
We used a tool called Gleam to facilitate the contest and it worked really well. It was a clean interface and everything just really came together on it. This contest is probably part of the reason VidForce is doing so well right now…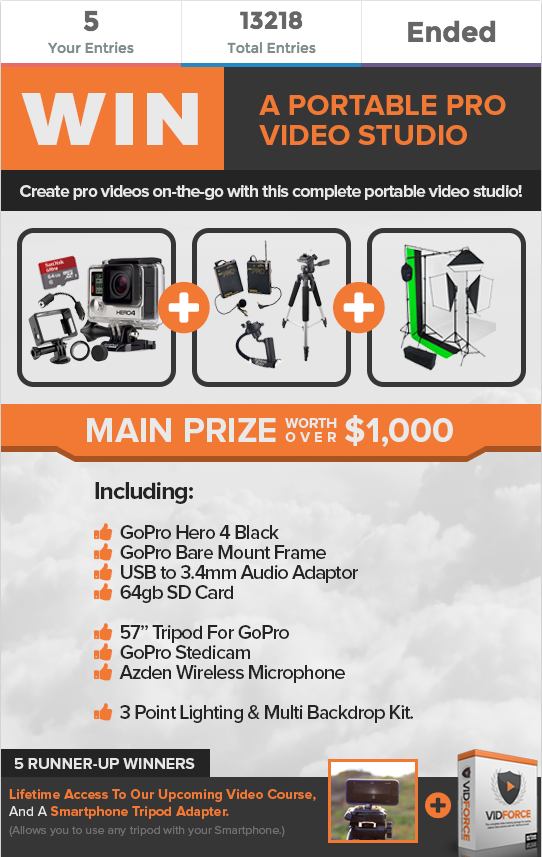 ---
Monthly Expense Breakdown
Rent: $525.00 (I have an office away from Home)
Libsyn: $5.00 (Hosts my old B&B Podcast)
Amazon S3: $11.56 (Video Hosting)
Bank Fees: $20.00
Fiber Optic Internet: $89.99 (They raised the price on me by $10!)
Cell Phones: $171.41
Edgar: $49.00 (Social Media Management Tool)
Audible: $14.95 (Audio Books)
Liquid Web: $80.14 (Web Hosting)
Southwest Credit Card: $500 (I rack up airline miles)
Infusionsoft: $250 (Autoresponder / CRM)
Facebook Ad Spend: $215
Random Expenses: $300 (Envato Themes / Domains / Etc.)
Total Expenses: $2,232.05
Since, again, we did not have a big promo this month for a product that we created, that ad spend went towards a "Like Campaign" to build our BTH Fan Page and to boost our blog posts as they went live on BTH. $155 ($5/day) went towards the Like Campaign and $60.00 went towards boosting our blog posts to get more eyes on them.
In August, the ad spend will be much higher as we're spending quite a bit to send traffic to VidForce.
---
Social Media Stats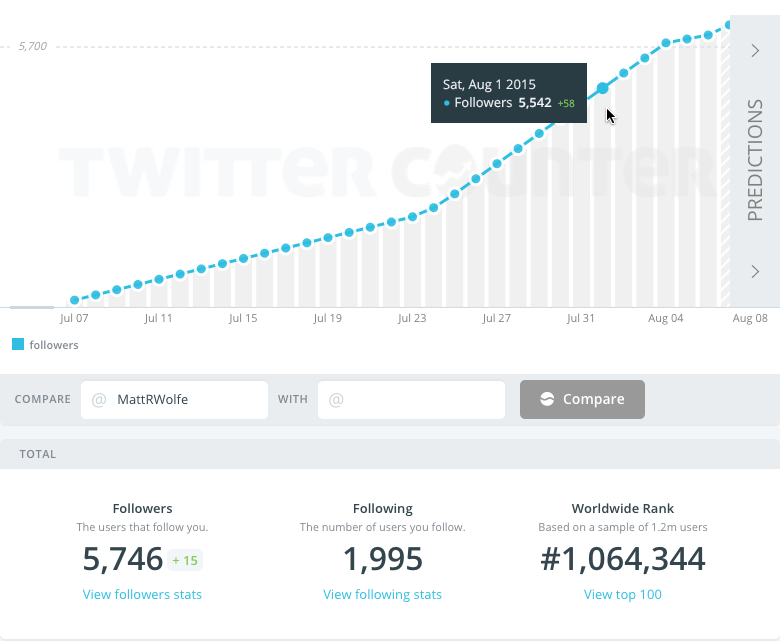 (Stats from Twitter Counter for MattRWolfe Twitter Account)
I'm sharing my social media stats here so that I can watch the growth of them from month to month.
Personal Twitter Followers: 5,542 (+942 since June)
BTH Twitter Followers: 2,018 (+903 since June)
Personal Facebook Fans: 650 (+102 since June)
BTH Facebook Fans: 1,477 (+823 since June)
LinkedIn Connections: 1,348 (+69 since June)
Google+ Connections: 3,852 (+69 since June)
Periscope Followers: 310
The two Twitter accounts have exploded! Close to 1,000 new followers in the past month. The BTH fan page has really grown as well. This is probably mostly due to the contest that we ran… But it's still awesome. We'll keep an eye on it over the coming months to see how (or if) this results in more traffic for us.
---
Traffic Report
Once again, I'm sharing my traffic stats. I love transparency. If someone can make it all the way through one of these reports and really understand how I create the income I create, these reports are doing their job… A big piece of the puzzle is traffic…
Also, I have a selfish reason for this report as well… I want to make sure I'm improving each month. I get to compare my reports month after month and make sure that I'm going in the right direction.
So this report will break down into two sections… First will be traffic to this blog and second will be traffic to Beyond The Hype.
MattWolfe.net –  Visitors: 7,389 (+3,805 over June)

Top 5 Traffic Sources:
(numbers in parenthesis is change over prior month)
Mailing List: 4,984 (

+3,212

)
Google (Organic): 1,832 (

+396

)
Twitter (Organic): 137 (

+5

)
Facebook (Organic): 22 (

-4

)
Yahoo (Organic): 20 (

+7

)
Again, my mailing list crushes everything as my top traffic source… Notice how I had 3,805 more visitors to my site in July than I did in June and how Google and my mailing list account for an increase in 3,608… That's the 80/20 rule in effect for you… At least 80% of my traffic is coming from 20% of my traffic efforts… I'm really trying to make Twitter have a big impact because I love it as a social network but I need to figure out how to make it generate better results.
For the big spike in traffic you see in the screenshot above… That's the day I published last month's income report. 🙂
Beyond The Hype –  Visitors: 2,765 (-3,651 over June)

Top 5 Traffic Sources:
Mailing List: 1,070 (

-4,277

)
Twitter (Organic): 203 (

+75

)
MattWolfe.net: 187 (

+39

)
Google (Organic): 160 (

-46

)
Facebook (Organic): 45 (

-190

)
I think the contest that led to more Twitter followers had a pretty big impact on the traffic to the Beyond The Hype… Overall, the month's traffic was down by a lot… That's because we didn't really add much new content during the month of July, while we had our heads down focused on building VidForce. When we post content, we get traffic. When we don't post content, the traffic slumps. Simple as that…
---
Time Report
A couple months ago, someone asked in one of my reports that I share where my time is spent. I use a tool called Rescue Time to track my time online. It tracks both on my office computer and my laptop so this is a pretty accurate picture of how much time is spent on my computer…
Here's what the report looks like for July: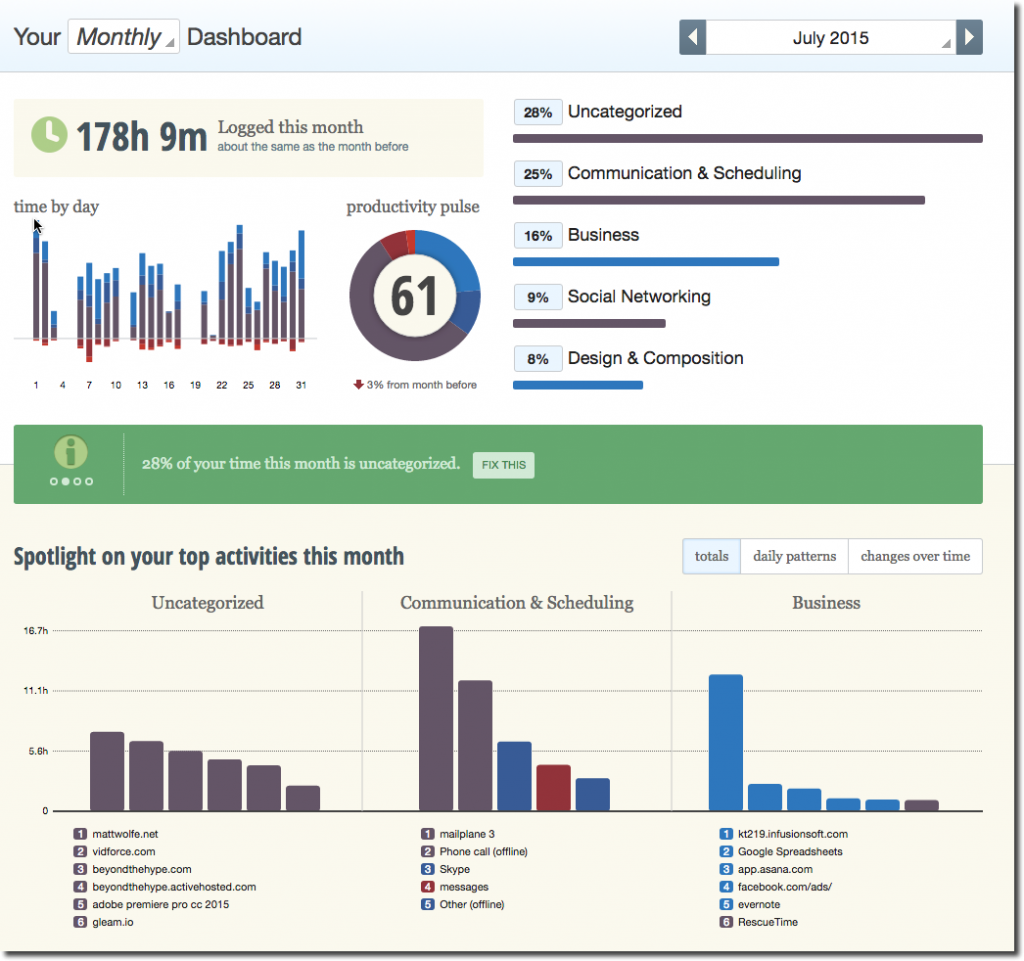 Here's basically what this report tells me…
1. I spent 178 hours working last month. I don't work on the weekends at all. There are 23 weekdays in July, which means that I worked, on average, 7.74 hours per day in the month of July. This is almost identical to the amount of hours I worked in June.
2. I STILL need to categorize a lot of my tasks. 28% of the work I did last month went into "Uncategorized" which basically means that I haven't told the system if those tasks should be considered social networking, business, design, etc…
3. I spent a TON of time in email last month… Mailplane 3 is my email client and you can see it's one of the largest spikes there. I also spent a lot of time in Infusionsoft, where most of my emails are sent from. I spend a lot of time mapping out followup sequences and cleaning up my database so only people who want to hear from me actually hear from me.
4. My productivity was down 3% from the previous month… I think I was playing around on Periscope a little too much. :-O In August, I'm tuning out of Facebook (except for ads) and taking a little bit of attention away from Twitter. It's distracting and it's not generating as much traffic as I'd hoped it would.
5. I still really want to hire a VA to help me clean up my Rescue Time reports, filter my incoming emails for me and help with research and find images for blog posts… This may be a goal of mine by the end of August…
Here's my top 10 most used tools / websites…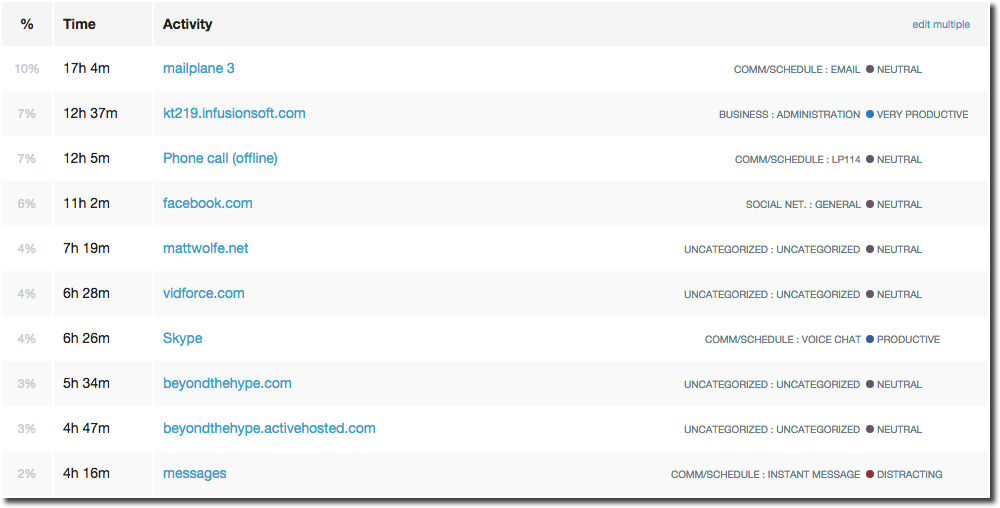 I managed to drop the amount of time in Facebook down from about 16 hours in the month down to about 11 hours in the month… That's still WAY too much. I've started using a Chrome plugin called The News Feed Eradicator this month to make it so nothing shows up on Facebook. I like it because I can still access the advertising platform but there's no distracting news feed… Rescue Time has a function to block Facebook but it blocks that ad manager as well, which is no good for me…
I'm blown away by how much time I spent in email as well. I don't remember being in my email that much but I'm sure I was… This is probably the #1 reason I need a VA. Although, I really enjoy reading all the emails from marketers that I'm on the lists of, it's killing way too much of my day. I need to cut down on the amount of lists I'm subscribed to to just my favorites and unsubscribe from the rest…
Just in case you're wondering… The lists that I absolutely love being on and won't unsubscribe from are: Ben Settle, Neil Patel, Ryan Levesque, Neville Medhora, Andre Chaperon, Ben Adkins, and Todd Brown… And of course my list and Josh Bartlett's lists… If you're going to clear away everyone else, like I am… Stay on those. 🙂 They are the ones that I never skip… Which is proof that the biggest key to email open rates in the "From" line and not the subject line… But more on that in a future blog post.
If you have any questions about what any of these are or what this all means, feel free to ask in the comments at the bottom of the post. I'll explain any of it to anyone that wants to know more.
---
Looking Back: Goals For July
Let's take a look at the goals I set for myself for July… I'll do this monthly so I can see how I ended up.
1. Income Goal: $30,000 – I only hit about 27% of this goal with a little over $8,000. My reasons (read excuses) are that we delayed the launch of VidForce to get it perfect and I couldn't release my Facebook ebook because of Facebook's recent changes. Sometimes months like this just happen…
2. Launch VidForce – This didn't happen… See notes above and in the intro to this blog post.
3. Create "Funnel" For FB Uncovered – This didn't happen either… Again, see notes at the beginning of the post. :-/
4. Update Fiverr Report – Yes! One of my goals was completed! I actually did go through my Fiverr ebook (for sale on the products page) and completely revamp it with new screenshots and new tips based on Fiverr's recent changes.
5. Get An Article Published In A Big Publication – This didn't happen either. I really don't even have a good excuse on this one. I really didn't make the effort this month to reach out to big publications so I really screwed this up… I need to set fewer goals each month so that I can really focus on the biggest impact goals.
6. Four New Articles On Be Healthy And Relax – Be Healthy And Relax received 2 new blog posts in July. One of them from someone who read about the site in last month's income report. You can check out Mel's blog post about Meditation here. This was another goal that did not get prioritized this month. You'll notice some Adsense earnings for July as a result of this blog but it really needs my focus to see a substantial increase.
7. Get To The Gym Every Weekday – This definitely happened! I've gone to the gym every single weekday for 7 weeks now without missing a day. I'm addicted.
8. Optimize List Engagement – This goal I think was met. It was a bit to "soft" of a goal, to be honest… My list open rate went from about 10% up to about 18% on average because I cleared off a lot of people that were not engaged and because I started using the new methods for writing emails that I mentioned earlier. My click rates on my emails, however, have not really improved. I'm getting a lot more people reading my emails but about the same as I've always gotten actually clicking through. I'll continue to improve this through better emails and clearing off people that don't pay attention anymore.
---
Goals For August
Let's try this again and see if I can do a better job in August… I'm going to set only 1 income goal and 4 main "task" goals from here on out. Putting too much on my plate each month will hurt me and hurt my chances of actually achieving everything…
Income Goal: $30,000 – Let's try this again. I'd like to hit $30,000 for the month of August because I didn't in July. Luckily, VidForce has launched and we're off to a good start so I think this month it will be attainable.
1. Launch a Live Webinar That Promotes VidForce – Josh and I want to create a webinar that teaches strategies from VidForce and then sells people in to joining the program. This has become our number one priority for the month, after VidForce has launched.
2. Join or Form a Mastermind Group – I used to be in several mastermind groups that met once per month. We bounced ideas around, gave each other feedback, asked for help, and shared what was working now in our businesses. I haven't been a part of a mastermind group in a couple of years now and I really miss it. I'd like to increase the circle of people that I bounce ideas around with. I not only love to get feedback on my business and where I'm headed, I absolutely love to give feedback and showoff all the cool little things I discover that work for me. I need this again.
3. Work With Minimum 3 Clients On Consultant Basis – Like the mastermind thing, I love teaching what's working for me now, mapping on business plans, helping people automate, and just giving people a direction to head in their business. I want to work with people that already have a business but need some guidance on what to do next, specifically with their online presence. I love working with these types of people. If you're interested in learning more about working with me, hit the contact form at the top of the page. Those emails go directly to me.
4. Outline My Next Book – This is something that I've been wanting to do for a while now. I really want to get a second book out there. I've got the concept that I want to teach and a rough-outline in my brain of how it will flow, I just need to take the first steps towards creating it. I was really happy with the boost that my first book, WordPress Revealed, gave me but I've been frustrated with the reviews. I'd like to tackle a less "technical" topic and teach more of a "conceptual" topic. I have a complete mapped out business model in my head that I've never seen anyone else teach but I've used it and automated it multiple times… It's time to get it on paper and teach the whole thing. First comes step 1… I need to get an outline done. So I will have this done by the end of August.
That's everything. I've poured every bit of information about what's happening in my business, what's working, what I failed at, where my time is spent, how much I'm making, etc. in to this blog post… I'm not sure there's more I can share.
I love the comments and questions and had some really good ones on the last income report… Even if just to say "I love these reports" so that I know I'm on the right track with them and that you'd like to see more of these. So leave a comment or question below!
Looking forward to discussing and answering any questions you may have!