I'm on top of it this month! It's the first of the month and I felt compelled to get the income report up and out today. I update my own income report in a Google Doc about once a week anyway so I already have the data plus June was an improvement over May so I was excited to share.
A couple things happened in the month of June that are "of note".
Josh and I spent a lot of the month creating two new programs.
The first one is called VidForce and is all about video marketing and the technical side of creating killer online videos. This program will be released within the next few weeks, but we spent a lot of the month focusing on developing this out.

The second program is called Marketing Insiders which technically opens today, but we let a few people in yesterday and the day before. You will see a small amount of income from this new program. Josh wrote an awesome blog post that discussed it in a bit more detail over on the Beyond The Hype blog.

Josh and I also did a webinar with Dr. Ben Adkins about how he quickly builds monthly membership sites. It was this webinar training that partially inspired us to build BTH Insiders. You will notice a big spike in the affiliate commissions section this month as a result of doing that webinar training with Ben.
I will discuss a little bit more about this month's numbers after the actual report but first…
A Quick Note And Disclaimer
Like always, I'll start with a few disclaimers… These numbers are net after refunds for the month. This is the amount that I actually received in that month, all refunds considered.
Many of these projects, I'm partnered with Josh Bartlett on. What you're seeing is what I made. This isn't the total made before Josh takes his cut. This is the totals that I made off the various promotions. Josh and I are not necessarily 50/50 partners on every promotion we do so it should not be assumed that what I made is also what Josh made. I respect Josh's privacy and will not share information that indicates how much Josh may have made off of a project.
Finally, some of the links in the income report will be affiliate links. If I mention a product that's not one of my products, it's safe to assume that it is an affiliate link and that I will receive a commission if you decide to purchase. This does not affect the price of the product and I only ever recommend products that I use and can stand behind 100%.
So here is the income breakdown for June 2015…
---
Income Breakdown June 2015
Info-Product Businesses:
Affiliate Promotions:
Book Publishing:
iBooks: $183.85
Kindle Sales: $119.27
CreateSpace: $44.69

Total Publishing: $347.81
Miscellaneous Earnings:
Client Work / Private Deals: $5,352.32
Fiverr Gig Sales: $56.84

Total Miscellaneous: $5,409.16
Total Income – June 2015: $14,046.78
---
Some additional things to note for June…
FB Uncovered
FB Uncovered sales are way down in the month of June. This is mainly because we didn't put a lot of promotional effort behind it. It's a really killer product that I think can truly help anyone that goes through it so we really do need to put the effort into getting it out there more.
Our next steps for FB Uncovered include building a bit more of a "funnel" around it. We'll create a lower priced product that has a lot of great information in it and then use the full course as an upsell from the lower priced product. We will then turn the Facebook ad traffic back on to drive people to the new offer. This will be a big priority for us in July.
A New Income Stream With Fiverr
This course will be getting an upgrade (and probably a price increase). All existing members will be getting the new edition that I release as well. The look and layout of Fiverr has changed a little bit since I created the report. The training is still 100% relevant, but some of the screenshots in the report don't perfectly portray Fiverr's current look. I've also learned a couple new tricks with Fiverr that have helped automate the process even more. So I'll be adding that information into the book and doing a mini promo at some point about the new version of the book.
Passive Income Streams
Easy Video Suite and Get Response both had good sales months once again for me. These are both totally passive income streams that are a result of a few blog posts that I've created. I made a blog post comparing GetResponse to Aweber and I made a mini blog all about Easy Video Suite. These small blogging efforts have resulted in thousands of dollars in return and are now completely passive. All it takes is some good, in-depth, training on a blog post and the little traffic strategy that I teach for free to my email subscribers and pretty much anyone could generate some decent passive income from blog posts. I really need to create more posts like the ones mentioned.
Be Healthy And Relax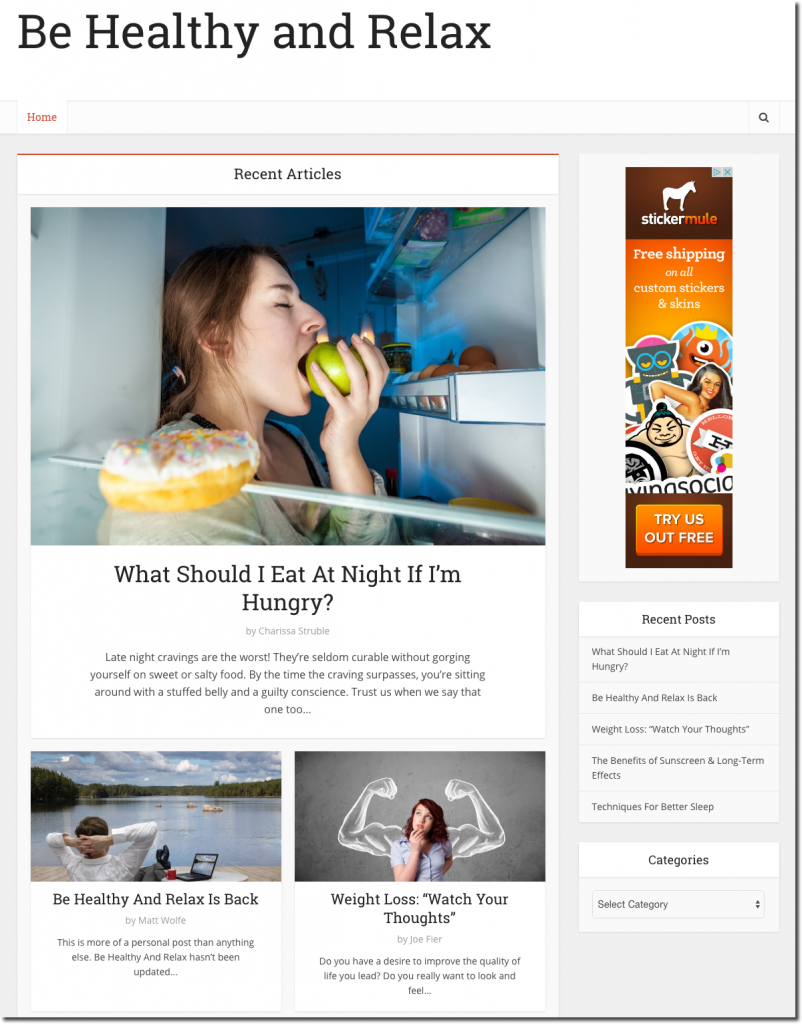 I know this isn't on the income report above. That's because it did not generate any income in June. However, I received some awesome news in June…
Back around 2010, I received an email from Google that my Google Adsense account was shut down for terms of service violations. I never received any word as to why and, scouring through the terms myself, I never actually figured out what rule I broke. I disputed the account closure for months with no luck and eventually gave up.
In June, I decided that enough time had passed and I wanted to experiment with generating advertising revenue once again. I contacted Google and, after a bit of back and forth with their compliance department, I managed to get my account reinstated!
Be Healthy And Relax is a blog that I started with Joe Fier back in 2007. It quickly became very popular and started receiving hundreds of visitors a day, mostly from Google. In 2009, I bought Joe out on the blog and paid him a decent amount to take it over myself… This was literally months before Google Adsense dropped the hammer on my account.
After Google closed me down, I stopped putting much attention into that site because, despite the fact that it generated a lot of traffic, it was not generating any revenue and I really did not have the time to create a paid product of my own to sell from the site.
Now that I've got my Adsense account back and I'm starting to see some revenue trickle in from the site again, I've decided to dedicate a little bit of time to that site and brand once again.
Since I've personally been putting a lot of focus on my own health and educating myself on the topic, it just feels like a natural thing to do. The site will get new content as I learn and, over time, it will begin to generate revenue once again.
I know it won't generate a ton of money early on but I am really excited because it's a bit of a passion project and it's actually the oldest site that I've created that's still online today.
If you're interested in health and fitness and want to follow along a bit to that blog, check it out here and be sure to opt-in. 🙂
Starting next month, I'll be creating reports and generating updates on what's going on with that site as well. It will get its own reports and case studies, but I will still share any income it generates in this report.
---
Monthly Expense Breakdown
Rent: $525.00 (I have an office away from Home)
Libsyn: $5.00 (Hosts my old B&B Podcast)
Amazon S3: $14.24 (Video Hosting)
Bank Fees: $20.00
Fiber Optic Internet: $79.99
Cell Phones: $171.41
Edgar: $49.00 (Social Media Management Tool)
Audible: $14.95 (Audio Books)
Liquid Web: $77.94 (Web Hosting)
Southwest Credit Card: $500 (I rack up airline miles)
Infusionsoft: $250 (Autoresponder / CRM)
Facebook Ad Spend: $222.15
Random Expenses: $300 (Envato Themes / Domains / Etc.)
Total Expenses: $2,229.68
This number is actually more of an approximation. "Random Expenses" is a bit of a guess at the moment, but I do buy new domain names from time to time and grab new themes on places like Envato. Some of these go on the Southwest Airlines card and some of them go direct from my business account. I will get a more accurate expense breakdown for future Income Reports.
That number is pretty damn close, but I will break it down even further in my next report.
I added the Facebook Ad Spend into the report this month. I forgot last month and ended up adding it into the comments section.
Since we did not have a big promo this month for a product that we created, that ad spend went towards a "Like Campaign" to build our BTH Fan Page and to boost our blog posts as they went live on BTH. $150 ($5/day) went towards the Like Campaign and $72.15 went towards boosting our blog posts to get more eyes on them.
Next month the ad spend will probably shoot up as we release a couple new products and ramp up promotions to FB Uncovered once again.
---
Social Media Stats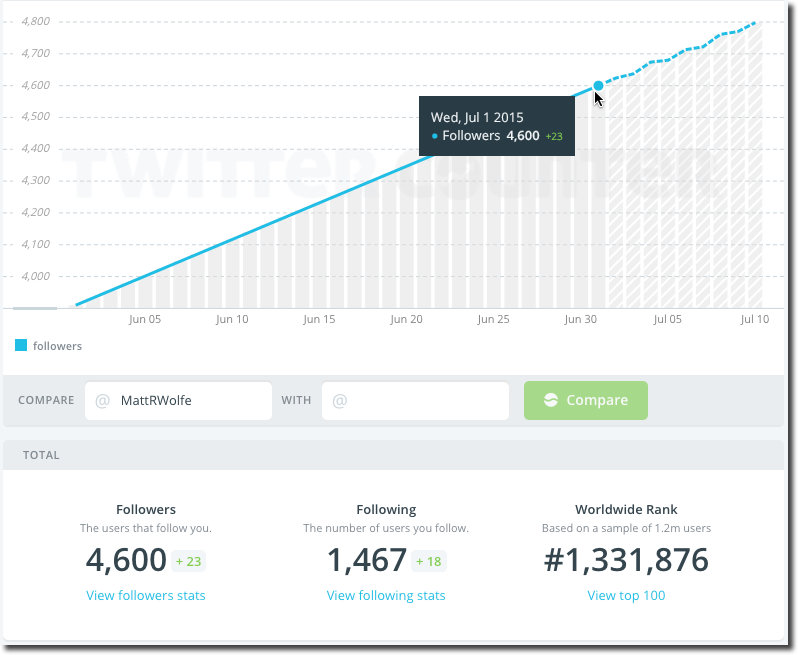 (Stats from Twitter Counter for MattRWolfe Twitter Account)
I'm sharing my social media stats here so that I can watch the growth of them from month to month. Keep in mind that, last month, I posted my income report mid-month. That means that the growth of these social media stats is really only a couple weeks of growth and not a full month's worth of growth.
Personal Twitter Followers: 4,600 (+332 since May)
BTH Twitter Followers: 1,115 (+428 since May)
Personal Facebook Fans: 548 (+41 since May)
BTH Facebook Fans: 654 (+188 since May)
LinkedIn Connections: 1,279 (+28 since May)
Google+ Connections: 3,783 (+28 since May)
As I mentioned last month, I actually started over on my personal Fan Page. The 548 fans that I do have are only a few months worth since I completely scrapped my old fan page and started from scratch.
The Twitter accounts are growing rapidly, both mine and the BTH account. I've got some strategies that I've been testing to grow them, which I'll share in a BTH blog post in the coming weeks. However, a large Twitter following doesn't necessarily mean traffic so we will be watching the results of the following just as much as we'll be watching the growth of the following. I don't really care about having a huge following on Twitter if it doesn't result in either engagement within Twitter (for branding / Know, Like, Trust) or clicks back to our websites.
---
Traffic Report
In last month's report, Sergio Felix asked about where my traffic mostly comes from. I didn't put it in the report itself but did answer him in the comments. I figured that it would be pretty good and helpful information to include in the report itself from here on out.
I want full transparency. The goal of these reports is so that people can see my results and then have a pretty clear understanding of the effort put in and the places that generate the traffic…
So this report will break down into two sections… First will be traffic to this blog and second will be traffic to Beyond The Hype. On month's that we're pushing people to a big info-product that we created, I'll break down traffic statistics to those pages as well. This month, we'll stick to the two blogs…
MattWolfe.net –  Visitors: 3,584

Top 5 Traffic Sources:
Mailing List: 1,772
Google (Organic): 1,436
Twitter (Organic): 132
Facebook (Organic): 26
Yahoo (Organic): 13
That information might be surprising to some people… Facebook generates very little traffic to this blog at the moment. My mailing list will probably always be the number 1 traffic source, but Google really is creeping closer and closer.
The rest of my traffic sources are mostly from places that send 1 or 2 visitors a month. They're mostly old guest posts on other blogs and things like that.
Beyond The Hype –  Visitors: 6,416

Top 5 Traffic Sources:
Mailing List: 5,347
Facebook (Organic): 235
Google (Organic): 206
MattWolfe.net: 148
Twitter (Organic): 128
Again, the mailing list is, by far, the largest traffic generator to Beyond The Hype. Facebook is 2nd and doesn't even come close to the amount of traffic we generate by mailing our list.
---
Time Report
Another question that came up in the comments of my last report was about my time. I was asked where most of my focus and time is spent…
I use a great tool called Rescue Time to track where my time is spent as well as to disable distractions and get into a flow while working.
Here's what the report looks like for June: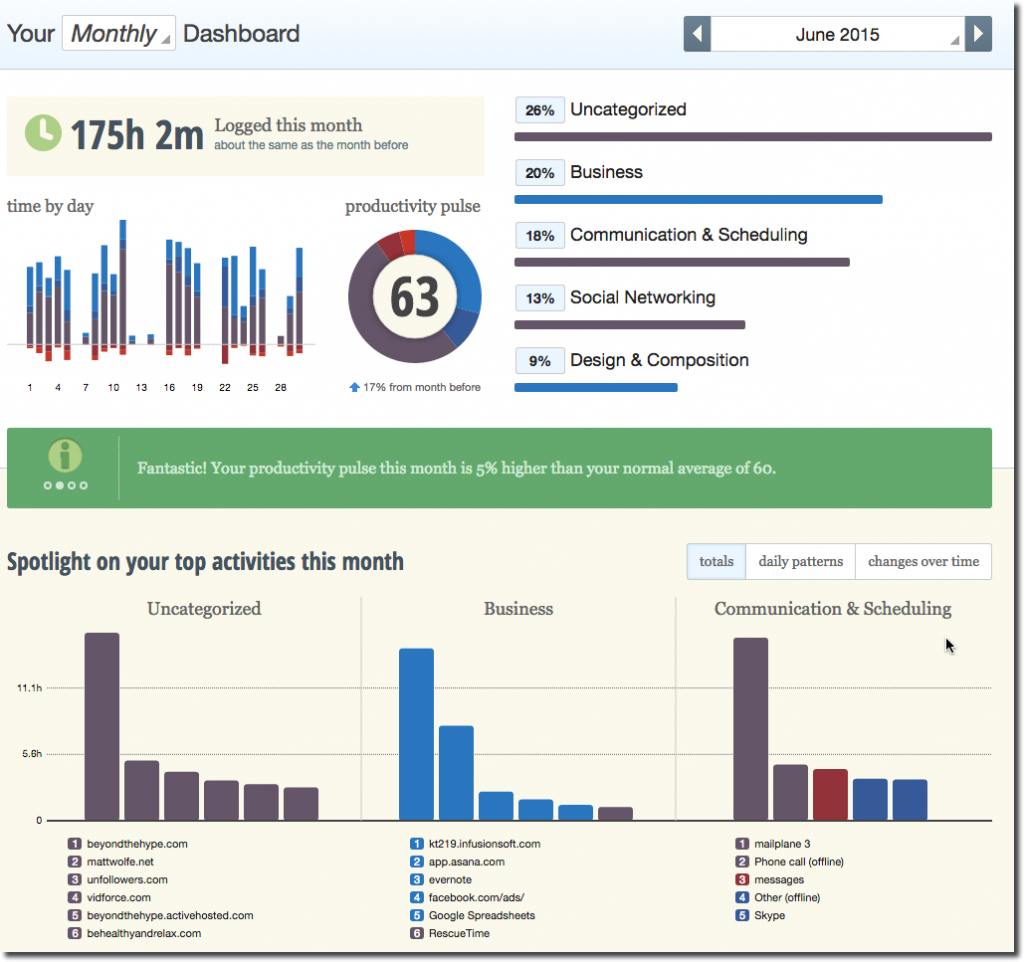 Here's basically what this report tells me…
1. I spent 175 hours working last month. I don't work on the weekends at all. There are 22 weekdays in June, which means that I worked, on average, 7.95 hours per day in the month of June.
2. I need to categorize a lot of my tasks. 26% of the work I did last month went into "Uncategorized" which basically means that I haven't told the system if those tasks should be considered social networking, business, design, etc…
3. Most of my time is spent working on BeyondTheHype.com, in Infusionsoft (our main email marketing tool), and Mailplane (my email client). I also spent a lot of time working in Asana, which is a project management tool that Josh and I use to split up tasks and schedule due dates for projects.
4. My productivity is up by 17% over the month before.
5. I should probably hire a VA to handle things like categorizing my Rescue Time work. 🙂
Here's my top 10 most used tools / websites…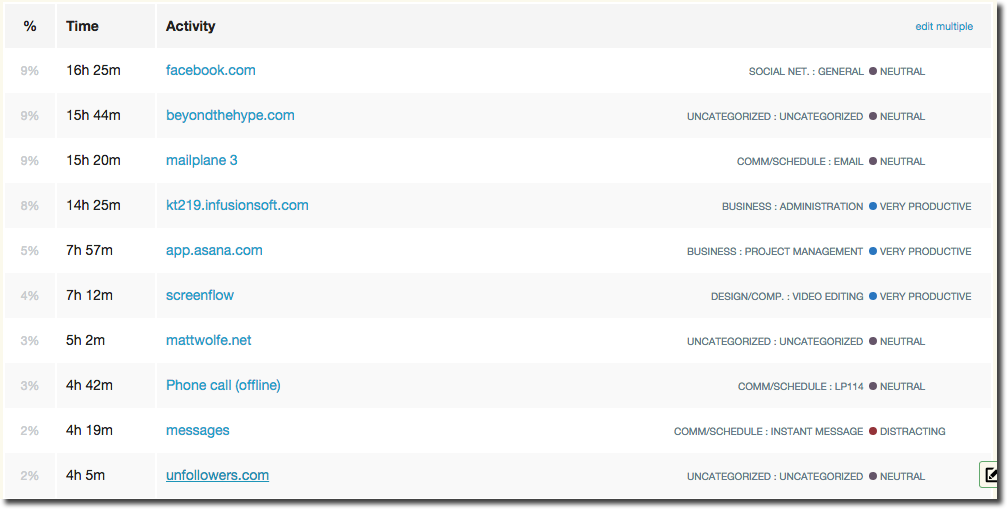 I spent WAY too much time on Facebook in June. Granted, some of that was managing ads and actually engaging with people that could potentially become customers but, realistically, a lot of that was wasted time as well.
If you have any questions about what any of these are or what this all means, feel free to ask in the comments at the bottom of the post. I'll explain any of it to anyone that wants to know more.
---
Goals For July
I think it's a good idea to end each of these with a set of goals for the following month. I can assess from month to month how many of my goals were met.
1. Income Goal: $30,000 – I want to have a $30k month personally in July. I think this is doable with the launch of VidForce and the plans that we have to reinvigorate FB Uncovered.
2. Launch VidForce – Sometimes we have a tendency to be perfectionists and push projects out further and further before launching them because we're trying to get them just right. We WILL launch VidForce in July!
3. Create "Funnel" For FB Uncovered – This course is way too good to slow down on selling it. In order to crank things up again, I'm going to create a bit of a funnel sequence with the product that has a lower-priced front-end product, an upsell into the main course, and potentially a downsell after the course. This flow will help it convert better from Facebook traffic as well as give us something new to promote to our lists with the front-end product.
4. Update Fiverr Report – The Fiverr report is good right now, but I want it to reflect the current look of the site as well as discuss some new features that Fiverr added in that make the process being taught even more automated.
5. Get An Article Published In A Big Publication – I'm focusing more and more on creating a ton of content. I try to create a new piece of content every single day. It's time that some of that content gets in big publications like Success, Forbes, Entrepreneur, etc. If you know someone at a big publication and want to make the connection, I'd love the support (Can't hurt to ask and put it out there).
6. Four New Articles On Be Healthy And Relax – Most of these will be written be outside writers. I may actually write one myself, but I will outsource much of the content on this site. If you're interested in writing for Be Healthy And Relax, let me know using the contact form in the top menu. I'm open to hearing ideas and the site does still get a lot of traffic.
7. Get To The Gym Every Weekday – I know this isn't business related in the traditional sense, but I do find that getting to the gym consistently helps with my focus and productivity. I haven't missed a day in two weeks now and I hope to keep the consistency up through the entire month of July.
8. Optimize List Engagement – This is somewhat of a "soft goal". My current mailing list has pretty low engagement. Only about 10% of the people on my list open right now and I get somewhere around a 2% click rate. This is pretty bad so I need to do a better job in the month of July at engaging my list and removing the people that are not interested in hearing from me anymore.
That's pretty much it… I think I've shared everything I could think to share to give you insight into my business right now.
I love the comments and questions and had some really good ones on the last income report… Even if just to say "I love these reports" so that I know I'm on the right track with them and that you'd like to see more of these.
Looking forward to discussing and answering any questions you may have!