August was a great month for me. I will admit right now before you scroll down and find out, that I did not meet all of my goals. I fell short of my income goal as well as my consulting goal… I'll talk about both of those through the post and give a little explanation for why…
The month of August saw Josh and I open up VidForce. We promoted it internally, meaning we just mailed our mailing lists about it, and did not have any affiliates or outside traffic driving to it. It went pretty well considering the small scale at which we promoted it.
The game plan moving into September is to reopen the program and allow affiliates to promote the program as well. We're in the process of adding new training into the members area for current members and making some optimization tweaks to the sales page, so it is still currently closed.
As a result of VidForce opening, we saw a few sales for FB Uncovered. We haven't been doing a big push to promote FB Uncovered because we are working on some new training for the course. We haven't completely closed it down either. We had a few people that enjoyed the VidForce course so much that they grabbed FB Uncovered as well to learn even more from us.
A lot of things are changing moving forward, and I'm excited!
I've started outlining my next course that I'm going to launch in October… I don't have a name for it yet, but it will be the most in-depth course I can create…
The focus will be on content marketing, list building, and brand growth. It will cover an entire step-by-step strategy of creating content, getting your content shared everywhere, building a list, creating a product to sell, marketing it to the list, and generating traffic to it. It will outline an entire business model, and I can't wait to dive in and start building the course.
I'd push to have it done this month, but I'm doing a 2-week road trip with the family. I just don't believe I'll make a whole lot of progress during that time. So I'll start working on it this month but don't expect I'll be ready to open the doors until mid-October sometime.
I'm also insanely excited about Marketing Insiders… I mentioned in my last post that BTH Insiders has evolved into Marketing Insiders, and it's something that I'm proud of.
Just in the first few months of opening "Insiders", we have training from Ben Adkins on building memberships. We have training from Casey Zeman on growing your brand with Periscope. We have training from Brandee Sweesy on how to fill up live events with Google Hangouts. We have training from Henry Evans on Time Management. We have training from Jesse Lakes on building income from Amazon affiliate commissions. And we have got a boatload of exclusive training from me on various topics that I'm passionate about.
It's a killer program, and I can't tell enough people about it because I am so proud of what has gone into it. So proud, in fact, that I'm boosting the price next week. 🙂
There's a lot to breakdown for this month, so let's dive into the numbers and discuss!
A Quick Note And Disclaimer
Like always, I'll start with a few disclaimers… These figures are net after refunds for the month. They are the amount that I received in that month, all refunds considered.
One point that I need to make very clear because it has been pointed out in the past… I do work on projects with Josh Bartlett. My income in no way reflects Josh's income. What you see on the projects that I've worked with Josh on is simply the amount that I drew from that venture. It's not a reflection of sales of the product or what Josh may have drawn. We ARE NOT 50/50 partners on every project we do or have done together. Money is often retained in that business for growth, and I only show what income I draw from the business. I respect Josh's privacy and want to make it abundantly clear that it is impossible to draw conclusions about Josh's income from my reports…
Finally, some of the links in the income report will be affiliate links. If I mention a product that's not one of my products, it's safe to assume that it is an affiliate link and that I will receive a commission if you decide to purchase. This does not affect the price of the product, and I only ever recommend products that I use and can stand behind 100%.
So here is the income breakdown for August 2015…
---
Income Breakdown August 2015
Info-Product Businesses:
Affiliate Promotions:
Book Publishing:
Kindle Sales: $81.70
CreateSpace: $19.06

Total Publishing: $100.76
Miscellaneous Earnings:
Client Work / Private Deals: $243.18
Viral Bully WordPress Plugin: $44.16
AdSense: $4.75

Total Miscellaneous: $292.09
Total Income – August 2015: $19,867.98
---
Some additional things to note for August…
My Email Marketing Strategy
I want to talk about Email marketing strategy once more in this post because it's been something that's had a big impact on my business…
Over the month of August, I attempted something new… I tried to mail my list every single day. I didn't quite accomplish it every single day, but I did manage to send 23 emails to my list during the month.
The idea behind my email strategy (which I explain in detail here) is that I'm emailing much more often and that I'm attempting to make every single email valuable. I'm not just writing short emails that try to send people to a sales page… I'm writing well thought out, in-depth, and educational emails.
The idea behind this is that I get thousands of people to open my emails. I don't get thousands of clicks to whatever I'm promoting. So I might as well put the value at the point where it's getting the most eyeballs…
Hopefully, people will be so happy with the value that they'll continue to want to hear from me. And hopefully, they will click the links in my emails to continue to learn about whatever I'm emailing about.
So far, I'm surprised to see that my open rates are still pretty damn good. I'm getting a good chunk of unsubscribes with every mailing but that was to be expected. Hearing from me everyday isn't for everyone… Even if it is solid content every time.
I've been so proud of my email content that I've even created a blog just for my favorite emails… You can check it out here.
Since, I've started this strategy, here's the results:
Here's the open rates of the various emails from the month of August (sorted by highest open percentage):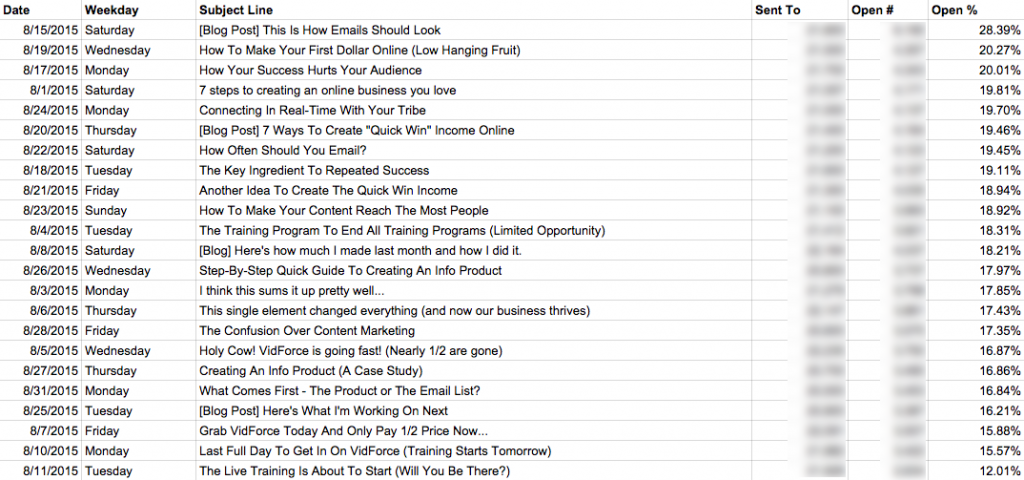 And here's some of the replies I've received as a result… (I never received email replies like this before):






This is literally just a small sampling of types of replies I receive to my emails these days… And it's not just one specific email either… These are spread out over weeks… So almost all of my emails get some sort of reply like this…
So I think my new email strategy is making a difference. 🙂
Also, if you're not on my list yet and you want to follow along and see my new email style, make sure you click here to opt-in.

I spent most of the month of August focusing on two things… 1. My list and creating a ton of value and 2. promoting and creating content for VidForce.
I mentioned most of what I wanted to say about VidForce at the beginning of this post. However, you can see that it was my main income generator for the month of August.
Some people might think "I though VidForce would have made a lot more than that" and I want to point out that the VidForce number is just what I drew from that endeavor. There's still more coming from that and it's not actually what the internal launch made… I told Josh that I wouldn't share the actual sales number of the product and that I would just share what I personally drew from it.

I talked about this at the beginning as well but I want to address the specific number in the income report… It shows $175.55 for the month of August.
I didn't actually start to promote Marketing Insiders until yesterday (August 31st) so that's actually not really reflective of what the program is going to do. It also currently has a $7 trial for the first month so the sales from Marketing Insiders are from people that are taking me up the trial.
I'm so excited about this platform and what I'm putting into it. A lot of the emails that I will be sending out in the month of September will be geared towards helping people realize what an amazing value Marketing Insiders is.
I have a goal of getting 500 members into Marketing Insiders by the end of October and 1,000 members by the end of the year. Check it out, if you haven't already.
---
Monthly Expense Breakdown
Rent: $525.00 (I have an office away from Home)
Libsyn: $5.00 (Hosts my old B&B Podcast)
Amazon S3: $11.56 (Video Hosting)
Bank Fees: $20.00
Fiber Optic Internet: $89.99
Cell Phones: $191.45 (Used a bit too much 4g this month)
Edgar: $49.00 (Social Media Management Tool)
Audible: $14.95 (Audio Books)
Liquid Web: $81.34 (Web Hosting – Will be migrating to WPEngine soon)
Southwest Credit Card: $500 (I rack up airline miles)
Infusionsoft: $25.03 (Cancelled / Migrating to Active Campaign)
Active Campaign: $334 (Email Autoresponder)
Facebook Ad Spend: $965.19
Adobe Creative Cloud: $49.95 (Photoshop / Premier / Audition)
Random Expenses: $300 (Envato Themes / Domains / Etc.)
Total Expenses: $3,162.46
This month saw a big spike in the cost of Facebook ads because we were promoting VidForce through some advertising. However, we got a huge return on investment from those ads. We did about $4,000 in VidForce sales as a result of the $965 that I spent on ads.
I'm also in the process of cleaning some things up in my business. I'm switching away from Infusionsoft for my email because it was getting too expensive, considering I was trying to mail daily. I'm setting up with Active Campaign instead.
I've also got a few little random expenses that I need to get rid of that I don't really use anymore. I'll be spending some time in September, analyzing expenses and figuring out where I can cut some costs.
I've also heard great things about hosting through WP Engine so I'll be giving them a shot with my new programs coming up. Liquid Web has been good to me but WP Engine looks like it's probably better suited for the type of volume I have.
---
Social Media Stats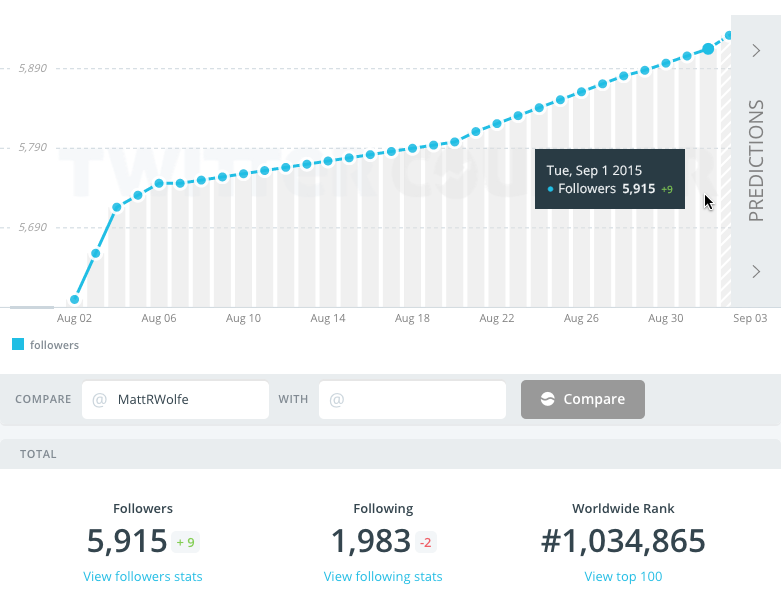 (Stats from Twitter Counter for MattRWolfe Twitter Account)
I'm sharing my social media stats here so that I can watch the growth of them from month to month.
Twitter Followers: 5,916 (+375)
Facebook Fans: 691 (+41)
LinkedIn Connections: 1,419 (+71)
Google+ Connections: 3,886 (+34)
Periscope Followers: 393 (+83)
I went back to sharing just my personal social media stats. The Beyond The Hype blog is taking a little bit of a back seat at the moment to the other projects that we have going. Beyond The Hype is mine and Josh's umbrella brand but there's going to be less focus on driving traffic to BTH and more focus on driving traffic to our personal blogs and the products we've got to offer.
All the social media accounts continued to climb pretty well this month. Twitter still seems to be seeing a lot of growth… Let's see how it translates to traffic!
---
Traffic Report
The point of these reports is to show you where the income is coming from and give you a complete picture. Hopefully, all of this info will help people reverse engineer some aspects and achieve similar results. A big piece of the business puzzle is traffic… So here's all of the traffic info for August:
MattWolfe.net –  Visitors: 7,677 (

+288

)

Top 5 Traffic Sources:
(numbers in parenthesis is the change over prior month)
Mailing List: 4,997 (

+13

)
Google (Organic): 1,849 (

+27

)
Facebook (Organic): 213 (

+191

)
Twitter (Organic): 132 (

-5

)
Yahoo (Organic): 24 (

+4

)
As you'll probably notice every month, my mailing list is going to be my biggest traffic source… Since I'm emailing almost daily, you'll see a more consistent traffic trend than last month. Last month, I had one big spike and then a slow decline throughout the month. This month, there's several peaks due to my more frequent mailings.
Also, with the amount of Twitter growth that I'm getting, I'm not seeing it correlate to a ton more traffic. I really enjoy Twitter. It's actually my preferred social network but, if I can't get it to convert to traffic back to my website pretty soon, I'm going to have to back off on my efforts with it.
There was a spike in Facebook traffic this month as well… To be honest, I'm not sure why that happened. I didn't boost or promote any blog posts. I think since I posted a few more posts this month than I did last month, I just got more social shares than I did last month. My blog post about my email strategy actually got 18 FB shares and my "7 Ways To Make Money" post had 13 FB shares… So the increase in post frequency seemingly led to an increase in my website being shared.
VidForce.com – Visitors: 11,764
Since VidForce was an internal launch almost all of that traffic came from our lists, with a little bit of it coming from Facebook ads. I'm not going to go into much detail on traffic to this because it's literally all email list traffic and Facebook ad traffic.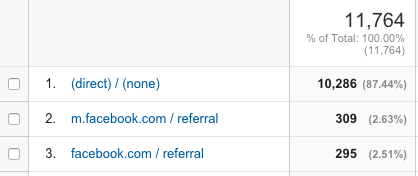 ---
Time Report
I've been using Rescue Time to track where my hours go every month. When I first starting presenting my income reports again, someone asked me where my time went… So I decided to share the data from Rescue Time…
Here's what the report looks like for August: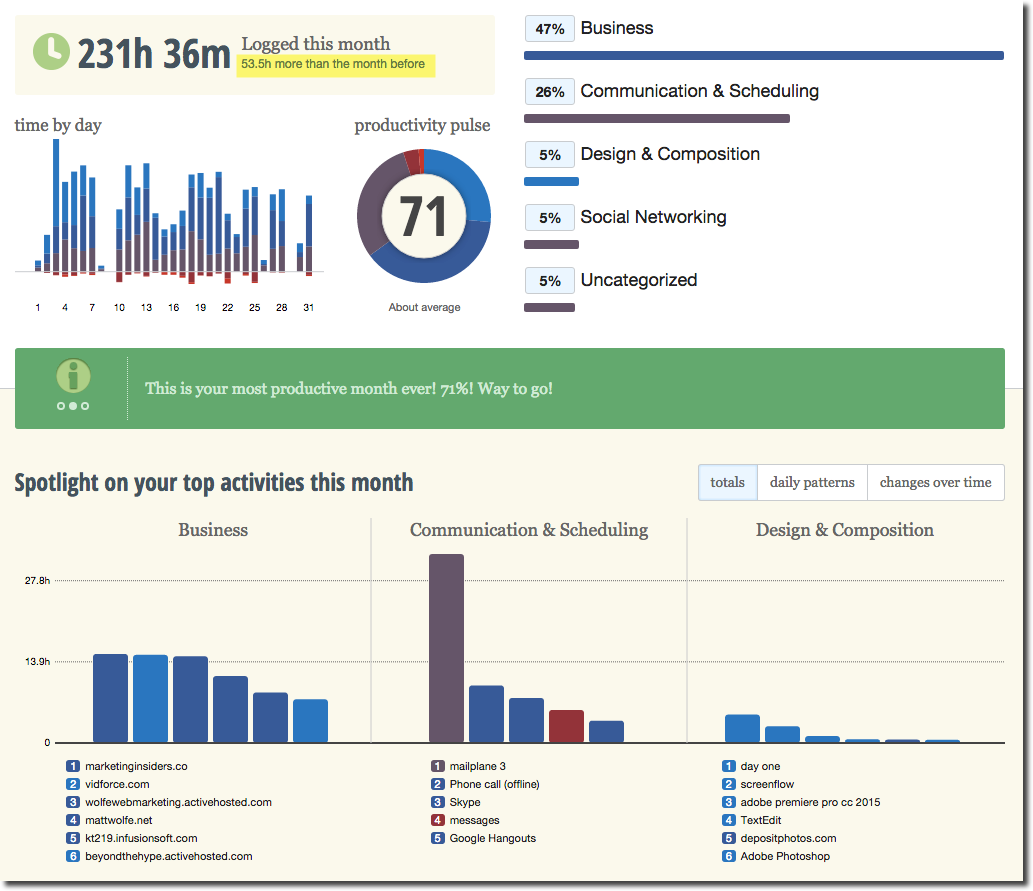 Here's basically what this report tells me…
1. I spent 232 hours working last month. I don't work on the weekends at all. There are 21 weekdays in August, which means that I worked, on average, 11.04 hours per day. This is about 4 more hours per day than in July… This is due to a couple things… First, we had a launch this month and I had one evening that I pulled an "all nighter" to get the launch ready. So, in one day, I actually probably worked 20 hours, throwing my averages way up. The other reason this is up for the month is that I started emailing my list daily… I usually write my emails at night before bed. So an extra hour per day has been spent on work to get these new emails out.
2. I actually spent about an hour and categorized my tasks… You can see I'm down to only 5% uncategorized tasks now. So this is a much more accurate picture of my time. 47% of my time is focused on business tasks (in this case working on web pages like Marketing Insiders and VidForce and spending time writing emails), 26% of time goes to communication, which is mostly email, Skype calls and phone calls, 5% of my time is spent on things like photoshop and video editing, and another 5% goes towards social networking.
3. Once again, I spent a ton of time in email again (mailplane). I really really need a PA to help me get this under control. Most of this time is responding back to the people who hit "reply" when I mail my list. I like to read all the emails from people and try to reply when I can. More mailing my list last month meant A LOT more emails to reply to…
4. Rescue Time actually tells me that this was my most productive month ever! I think it's mostly because I categorized things in their system so they can tell what's considered productive and what's not.
5. I've mentioned this several months in a row now, but I need to get an assistant. Using a tool like Rescue Time, I can see spots where I spend way too much time and I can get an assistant to take those things over for me. In fact, a few nights ago, when I was journaling, I wrote out an entire list of all the things I'd have an assistant handle for me once I had one… It would definitely be a full-time gig. I just need to take the steps to get one!
Here's my top 10 most used tools / websites…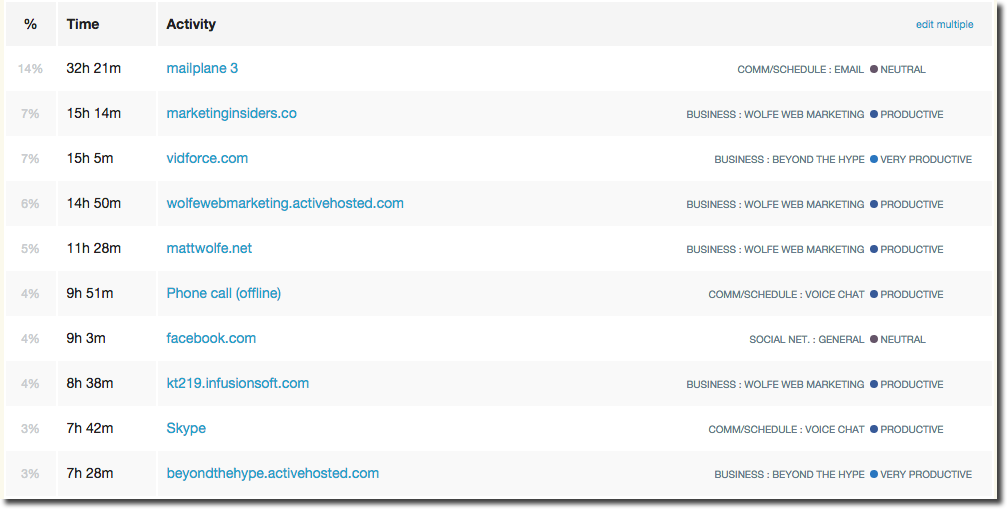 My amount of time in email skyrocketed this month as a result of my mailing strategy… Hence the need for an assistant to help me sift through it and only pass along the stuff I need to reply to. Again, this is a side-effect of mailing my list almost daily…
I spent a lot less time on Facebook in August and, most of the time I did spend in Facebook was actually spent creating and optimizing Facebook ads for VidForce. So it was actually productive Facebook time. I still use News Feed Eradicator so I don't really see all the stuff on the news feed unless I'm tagged in something.
Other quick things to note, I spent a ton of time building out Marketing Insiders and working on the VidForce pages… wolfewebmarketing.activehosted.com is actually Active Campaign… So that's almost 15 hours in that system, working on emails to the list.
If you have any questions about what any of these are or what this all means, feel free to ask in the comments at the bottom of the post. I'll explain any of it to anyone that wants to know more.
---
Looking Back: Goals For August
Let's take a look at the goals I set for myself for August… I'll do this monthly so I can see how I ended up.
Income Goal: $30,000 – Well I almost hit $20,000 for the month. I did about 66% of my income goal. It's a good number, but it wasn't what I was shooting for. I didn't put focus on private client work like I had in previous months because I was so focused on launching VidForce and building Marketing Insiders. Had I focused on landing a few consulting or private client gigs, I would have easily surpassed the goal. It's a balancing act.
1. Launch a Live Webinar That Promotes VidForce – I did not do this. However, I'm not going to say this was a failure because Josh took over the creation of the webinar. We opted to do the webinar a little bit later on and focus on optimizing the current sales page and getting new affiliates. Instead, I put focus into a new goal that came up mid-month… Building an awesome platform at Marketing Insiders… This new goal was achieved!
2. Join or Form a Mastermind Group – Yep! Joe Fier and I formed a private mastermind group that met in San Diego last week actually. I also committed to join another mastermind with Henry Evans, starting in October. It's actually a paid mastermind, but I'm ok with that. The monthly payment to be a member will force me to make sure I'm getting an ROI from that group every month. If I can't get at least one idea that's worth the cost of my investment each month, I'm not asking the right questions or it's not the right group for me… Being in a mastermind is that absolute best thing someone can do for their business. I'm convinced of that. I get so many ideas and work through so many issues with my mastermind groups, it's crazy.
3. Work With Minimum 3 Clients On Consultant Basis – This is where I blew it this month. I put no focus on acquiring new clients. I was so focused on building my platforms, I made acquisition of new clients a low priority. I'm building out some new pricing options for consulting and will make bringing in new clients and overhauling their business a large priority in the coming months.
4. Outline My Next Book – I actually ended up outlining 2 books this month. One book about my content marketing system, the topic of my next major course, and one book specifically about growing and nurturing an email list. The email book will be a paid ebook and the content book will be my next self-published print book. I'm excited about both and will continue to further outline and brainstorm the concepts. Hopefully, both will be ready by the end of the year!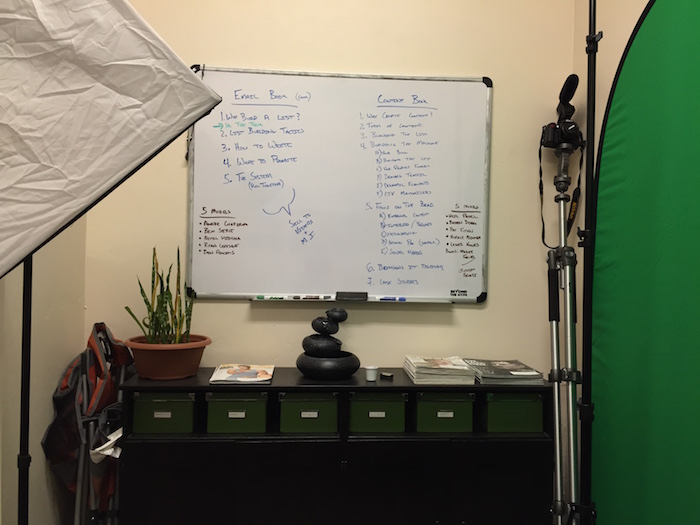 ---
Goals For September
For September, I'm a little hesitant to set too lofty of goals. I'm actually going on a 2-week road trip with my family right in the middle of the month. I'll have my laptop and I will manage to get some work done, but I'll probably struggle to create a ton of content during the trip…
I hate to be "realistic" with my goals too. I like to shoot for big numbers and, if I come up short, at least I went for it…
So, with that in mind, and considering what projects I've got in the pipeline, here's what I'm shooting for…
Income Goal: $20,000 – Yes, I dialed this number back from the past two months… It's still a larger number than I've managed to hit in the past two months, though. Considering I will be gone for two weeks out of the month, and I've got no major launch happening in the month, I'd say it's pretty damn lofty. Josh and I are going to be opening VidForce up again and allowing affiliates to promote… This should generate a decent chunk of income. I'm also going to put more attention on "client getting" for the consulting side of things, and I'll be pushing Marketing Insiders (which is only a $7 trial)… All of this combined, I should be able to make this happen!
1. Name and Fully Outline The Content Marketing Course – I've got this grand vision for this master course that I'm going to create. It's going to cover every aspect of how I've grown my business through content creation. It will explain, in great detail, how to pick your niche, how to create content for multiple platforms, how to create a product, how to rapidly grow a list, how to sell your products, and how to drive traffic to it all. It's a complete business, model. I've got ideas for checklists, cheat sheets, flowcharts, and the whole works… It will be the most in-depth thing I've ever created. I just need to name it, fully flesh out every asset that I will include, and get to work. In September, I will have this product named and completely outlined.
2. Grow Marketing Insiders to 250 Members – This program is a brand new program, and I think it's pretty apparent how excited I am about what's become of it so far. I want to create an incredible online community with this program, and I want to get off to a fast start with it. So in September, I'm committed to getting the membership number up to a minimum of 250 members.
3. Bring At Least 3 Consulting Clients On Board – I'm going to keep this one on and roll it over into September. Consulting is a big part of my business, and I neglected to attempt to bring new clients on board in August. So September I'm holding myself accountable to bring on three new clients once again. I never really have trouble bringing in new clients, I just need to make it a focus.
4. Read 15 Books – I haven't talked about this in the past, but I love to rapidly consume content. I'm capable of reading a book in about 1-2 hours, depending on the size of the book. I have a very specific method to doing this and retaining the information, which I'll share in a future post. Over the past week, I've been reading a book a day. I've been placing orders on Amazon for new books almost daily because I've been going through so many. So in the month of September, I'm challenging myself to read 15 books in total. Tonight, September 1st, I'm planning on reading Miracle Morning by Hal Elrod. I've started creating a spreadsheet in Google Docs of the books I'm reading. I'm thinking about starting another little blog on Tumblr or something with synopsizes of each book I read (to share the concepts but also to help with my retention). Thoughts on this idea? Would anyone read it?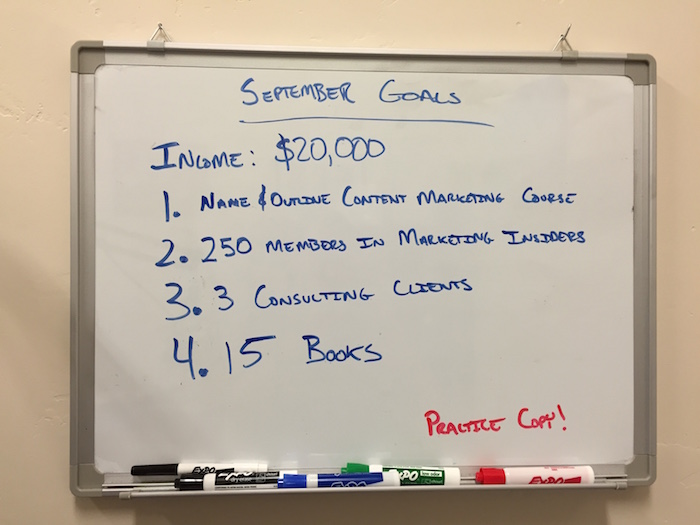 You'll also notice in the image above I wrote "Practice Copy" on my whiteboard… That's because I also want to spend a little bit of time each day studying and practicing copywriting. I think it's the most valuable skill someone can have who runs an online business… It will help you write better content, it will help you sell, it will help you build your list, and it will help you get clients. The benefits are endless.
That's everything. I've poured every bit of information about what's happening in my business, what's working, what I failed at, where my time was spent, how much I'm making, etc. into this blog post… I'm not sure there's more I can share.
I love the comments and questions and had some excellent ones on the last income report… Even if just to say "I love these reports" so that I know I'm on the right track with them and that you'd like to see more of these. So leave a comment or question below!
Looking forward to discussing and answering any questions you may have!